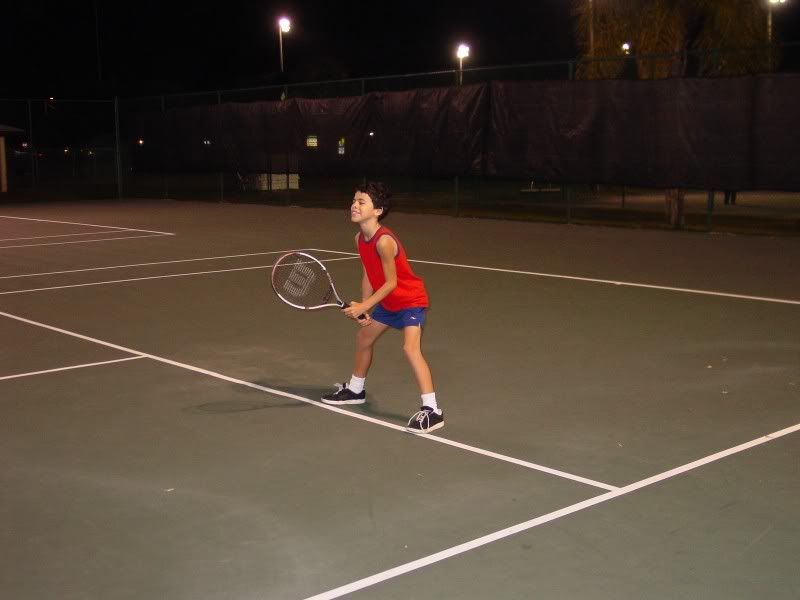 I have lots of things to up-date today! First off - big hugs and congrats to our son, Ian, who won his first-ever "under-the-lights" tennis match on Friday!!!!!
Way to go, son - you've worked really hard and it showed!!!
In my "spare" (yea, right) time away from the courts, I have managed to do a bit of work on my "Come and Share" project. I don't know why this took such a bad picture - I really like the way it's turning out. I'm hoping that when it's finished, it will be a delightful addition to my "Tea"-themed kitchen.
I'm also working on a small project for a door-hanger Christmas pillow. Thus, the pic of the partially-finished Santa. I've decided to devote at least one day per week working on a project for Christmas. I'm going to finish that "left-over" 2006 Christmas Block design - no matter what!!! :)
I also finished a gift for my "Birthday Bloggers" exchange partner...but, since it's going to be a gift - I can't post it here just yet.
On the homeschooling front, we finished up the first volume of "Story of the World" and we're now happilly engaged in the second volume. We're nearly finished with our Chemistry study and will begin a unit on botany before too long. As I have a brown thumb, hand and arm, I'm not sure how succesful we'll be - I hope no little green plants will have to be harmed (by me!) in this new learning adventure.
Go hide your plants! :)
*Sharon