Wow, how's that for a run-on blog title? First, the wolf:
I'm getting there! I'm really happy with the progress I've made since my last update.
Now for my frame and the stand:
Several months ago, my hubby and I were playing the game, "if you had "x" amount of dollars to spend (only on yourself!) what would be at the top of your list.? Of course, we all know that top of my list would be something stitching-related! :) I had seen the millenium frame in use on some of the "floss tube" videos I love to watch. So, because we were being completely decadent, I put the frame and stand at the top of my list. I have a couple of issues that were starting to make stitching a bit more difficult and I've thought that a floor stand might help.
Anyway... guess what showed up at my doorstep???
These don't come cheap, but I can see this stand lasting the rest of my life and then some.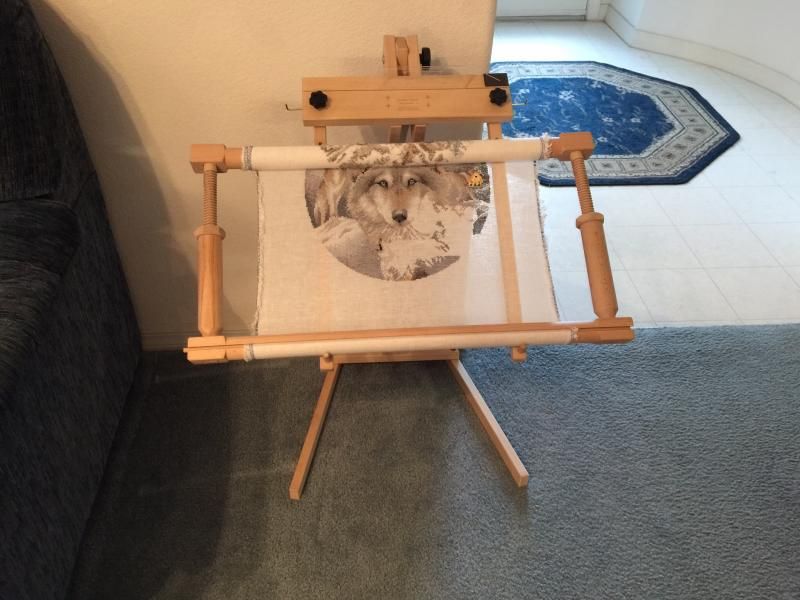 It has so many ways it can be adjusted...it's perfect for me. I have become used to now doing two-handed stitching and I love it! I also love how easy it is to pick up the frame and turn it over for starting and stopping threads. The frame itself can be configured to fit nearly any design size. The frame can also be used by itself without the floor stand and works well that way too. (I wanted to stitch on our lanai to take advantage of our lovely weather but didn't want to take the stand outside. It was great). Hubby got me the "standard" size and one other set of bars that will accommodate larger projects. Who knew my sweet hubby was listening (and apparently taking notes!) during that "pillow talk" conversation from a few months ago? See why I think he's such a keeper? There are other reasons too but I'll save those for another post! LOL
Before I posted this, hubby asked me to mention that because these are made by hand and are such fine workmanship, don't order one if you're in a rush. It took him 5 months to get this from order date to delivery date.
I'm a happy stitcher and a blessed wife...
Hugs and Grace,
*Sharon
(Frame and Stand from Needleneeds -
http://needleneeds.co.uk/store/
)