This little bundle of fluff and love just turned one! We never could have imagined how much love and laughter she was going to bring our way. When we were putting her into the car for her first ride home, I snuggled her close and told her that she had no idea what a crazy adventure she was in for. and I think, under her puppy breath, she was saying the exact same thing back to me! LOL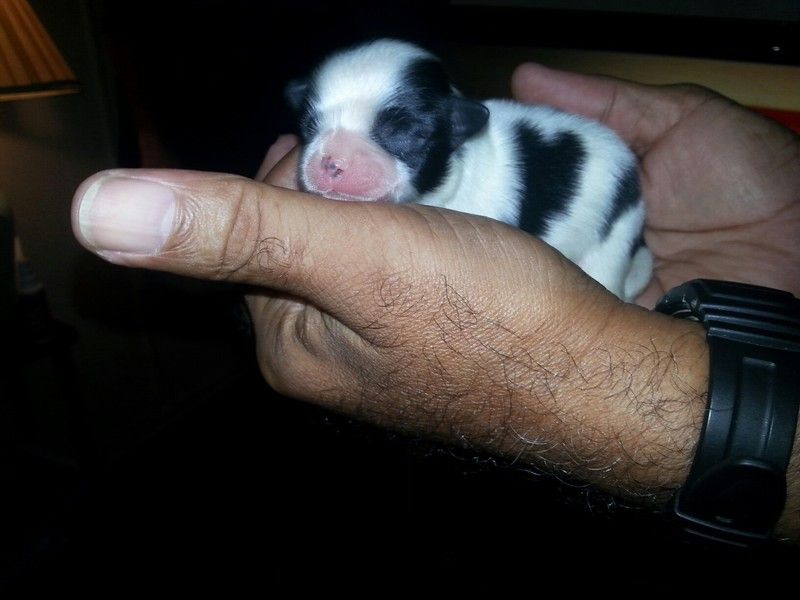 Our first meeting with our girl!
One of our visits...
First day at home
( I love this "fierce" face"!
Shelby was our first adventure with a puppy. We were amazed at how fast she learned to let us know that she needed to go out to potty. We used the "bells" method and within a week, there were no "accidents". We didn't realize how energetic a puppy could still be when it was "our" bedtime. We didn't know that puppies who have been completely vaccinated can still get kennel cough. (It's rare but it happens and when it does, it is usually VERY bad!) We didn't know that we would spend almost an entire night at the Vet's office, not knowing if she was going to make it. We didn't know that the same nebulizer that we use for our son's asthma, is the same one that would help our puppy breathe easier.
We didn't realize that boxes of tissues would be more temptation than she could resist and she'd wind up getting her head stuck in the box. Ditto a red, plastic "SOLO" cup.
We didn't know that even though we live in Florida, our little pup would stand and "shiver' and "need"a warm towel when the temperature went under 70 degrees.
(She now owns a red coat for just such "emergencies").
We didn't know that warm laundry, fresh from the dryer would be such a "pup magnet". She learned that when the drying signals it's finish, it meant that she has to race to hop in the basket! We didn't know that putting fresh linens on our bed would take 15 extra minutes, because that's prime puppy play time!
We didn't know that Shelby would love "Guardians of the Galaxy" and have a serious "crush" on "Groot"
We didn't know that this was the face that she'd make every single time we mention the "B-A-T-H" word.
We didn't know that she'd earn her AKC "Star Puppy" and her AKC K9 Good Citizen Award and be ready to become a therapy dog. (She loves this medal so much, she mugged "bored" in this picture! LOL)
We didn't know that she'd love sleeping on Papa's lap. EVERY SINGLE NIGHT!
We didn't know how much this little face would mean to us and how much she would change our lives...
Happy Birthday, little love!!!
Hugs and Grace,
*Sharon