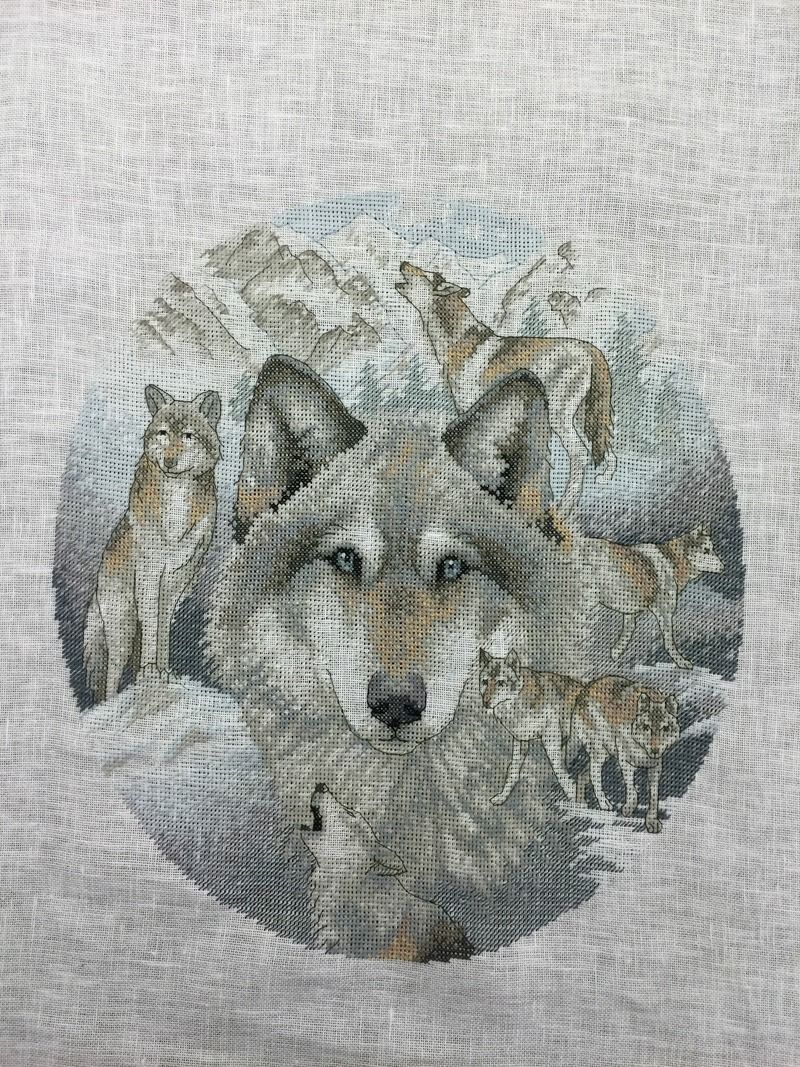 It's finished!!!! Stitching this piece has been an emotional journey for me. Our youngest son loves wolves and saw it at a store one day. He said, "mom, do you think you could stitch this?" With all my heart and soul, I wanted to be real and say "no". This piece was way out of my comfort zone of my stitching ability...but Ian has had a really rough couple of years medically. We got diagnosis of a few things that no one ever wants to hear. How could I tell my son, "no, I can't stitch this for you" when he was facing some pretty major hurdles? So, I bought and started plowing through it. Well, I experienced some problems stitching it with epic failures. Epic meaning, I had made so many mistakes that unless I frogged it back to the beginning, there was no way to fix it. (I was roughly a quarter finished when I realized my mistakes. I was so disgusted and discouraged that I threw the project in a closet and gave up. Ian told me, "Mom, don't give up! You can do this, I know you can! I'm right here beside you all the way..." Those were the very words we told Ian as he faced his treatments. How could I possibly "do as I say, not as I do" in this situation? So, I tracked down another new kit and started over. Throughout this piece, I lost my stitching mojo numerous times. I had serious doubts that I was ever going to see a finish...but here it is!!! :)
One thing I did with this piece, that I've never done before, is to REALLY personalize it. I took small pieces of my son's hair, my hubby's hair and my hair and secretly stitched them into this design. I also clipped a small piece of the fur from our little dog we lost last year, Tea Tzu. (Tea Tzu was Ian's absolute best friend and constant companion - he took her loss very hard). Ian isn't out-of-the-woods yet - his life will always be a bit rougher than I wish... But he is soldiering on...and I'm grateful for every day we have with him.
I'm glad this stitching pushed my limits of ability a bit. I enjoyed watching this design grow...and I LOVE what it stands for....
Having said that, I've already told our son that some day, if he ever chooses to marry, this piece will be his wedding sampler! I told him that he'd best choose someone who loves wolves as much as he does because all I'm going to do is add names and date of marriage at the bottom! Lol
I'd really like to thank (and hug!) all the visitors to my blog who helped cheer me on while I was
stitching this! Your "good job, nice work, you can do this") have meant more to me than I can say. So, go ahead and have that piece of chocolate, that cookie or slice of bacon (!) and celebrate with me!
Many Hugs and Much Grace,
*Sharon